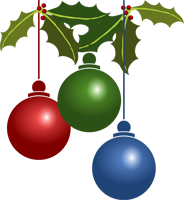 West Carroll High School Music Department
The West Carroll High School Music Department
is looking to help spread some holiday cheer.
Last year we started the Winter Concert Challenge.
We had never charged an admission nor asked for
a donation before to attend any of our concerts. In these
times of uncertainty we know there are those who
struggle to make ends meet on a daily basis and
there is certainly nothing left over for any extras.
So again this year the West Carroll Music Boosters
are challenging the music students and
their parent/guardians to help make someone else's
holiday a little brighter.
We are challenging everyone who attends our Winter Concert
on Tuesday, December 6, 6:30 PM in the WCHS Gymnasium
to bring canned goods/non-perishable items and/or a new,
unwrapped toy that we can donate
to the local food pantry and the Toys for Tots program.
In return the West Carroll Music Boosters will
make equal donations of the same.
Please consider being a part of our Winter Concert Challenge
and bring your donation(s) to our Concert.
Thanks for your continued support!
West Carroll High School Music Department
Emily Bressler – Band Director
Scott D. Mattison – Choir Director
Beth Bower – Accompanist